Permanent Teeth In A Day While You Sleep
If you're a resident of Barrie looking for a permanent smile makeover that allows you to eat, chew and smile with confidence then it's time to check out the revolutionary All-On-4 dental implant procedure.
Teeth in a Day! With All-on-4 Dental Implants

If you are looking for a permanent smile makeover that allows you to eat, chew and smile with confidence then it's time to check out the All-on-4 implant procedure. This all-on-4 technique refers to 4 implants supporting a full dentition. It can be done on either arch. If you have the bone then 4 long implants are placed in the arch. This technique is as close as you can get to having perfect teeth.
What is All-On-4?
Implants: Essentially, four titanium implants in the upper or lower jaw serve as anchors for your new teeth. As you heal your jaw bone grows. The titanium implant and your jaw will fuse. This is referred to as osseous integration. The titanium implant tricks your jaw into growing bone, the implant will be the root of the tooth (teeth).
Abutments: These are the connectors between the implants and the teeth. They secure the prosthetic (teeth) to the implants.
Prothesis: A perfectly fitting set of teeth that has been secured to the abutments which are attached to the implants. The prosthesis can be fabricated in many different ways. We give options for the finished product so you can decide how your smile is going to look.
Case Study: All-on-4 on the maxilla with Removable Denture supported by 4 implants on the mandible (lower jaw).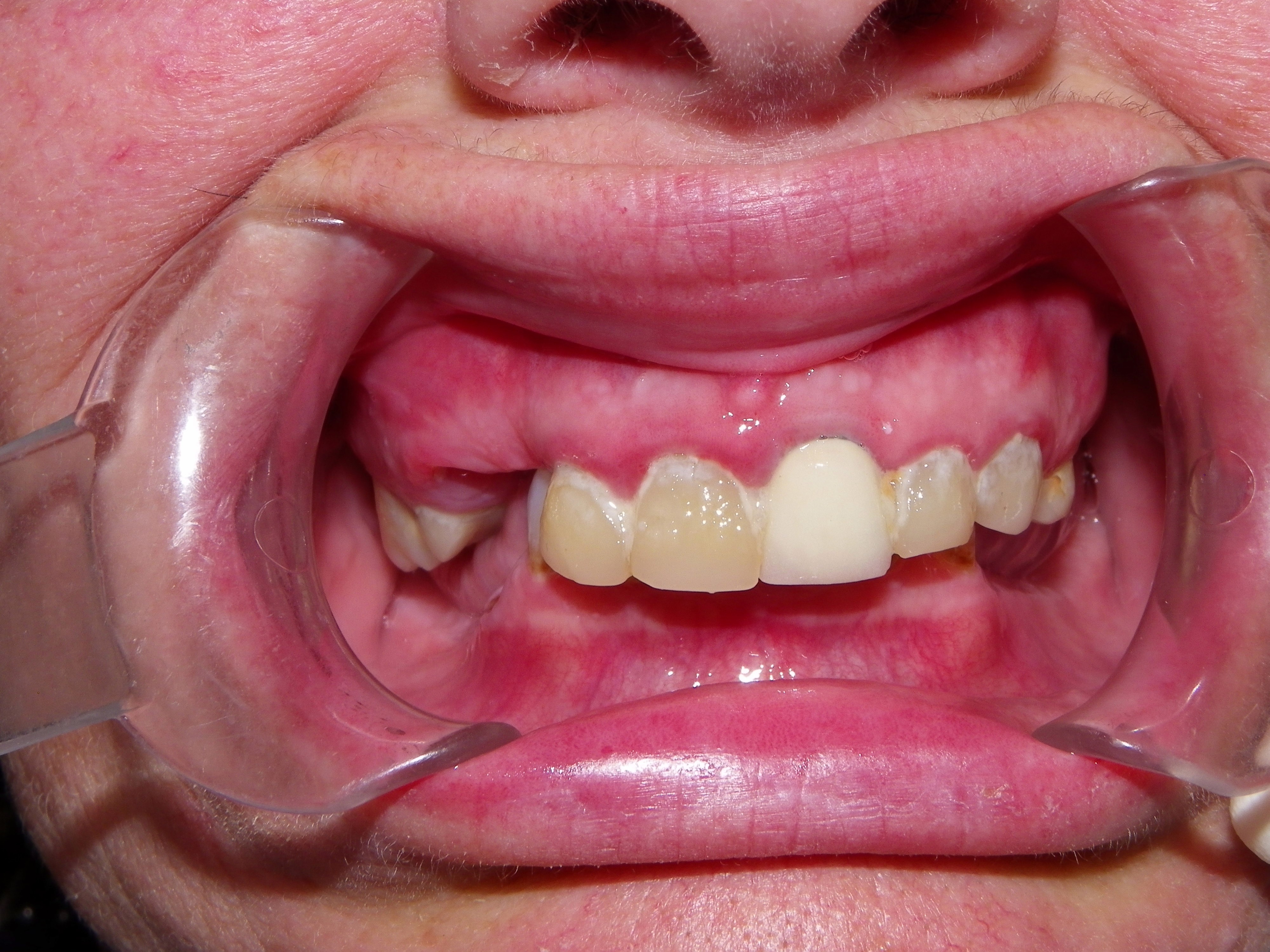 Many All-on-4 implant patients have the dental implants placed and a healing over-denture is secured to the implants. This over-denture is worn for 9 months up to a year. We allow the bone to osseous integrate into the implants. Once the bone has fused with the dental implants we begin the fabrication of making a perfect smile. The permanent set of teeth are customized for every patient and the choices of smiles can vary. With your permanent set of new teeth, you'll feel great smiling and chewing just as if they had been yours all along.
So, while this is a revolutionary procedure, it's actually a fairly straight forward one and is done entirely in our office. The actual number of visits you will need will vary depending on such things as the health of your mouth but the actual procedure will happen in a single day, while you sleep… "Teeth In A Day".
Case Study: New Lower Teeth on 4 Implants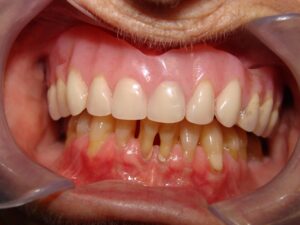 Our process starts with a consultation where we sit down with you and take the time to explain your options and answer all of your questions so you can make the best decision for you.
Guided Surgery
Dr. Dove has been restoring implants (placing the tooth) on the implant for 25 plus years and he has been placing dental implants for over 12 years.
We use the Nobel Biocare products. Nobel Biocare is the world leader in implant-based dental restorations. This implant company has an impressive history. In 1965 the first titanium implant was placed in a patient. The dental implants lasted 50 years (the patient died). This company has a lot of evidence based studies behind their products and in 2005 they came out with the first guided surgery system. The implants placed by Dr. Dove are guided, this means we use a planning software NobelClinician. From this information a surgical guide is fabricated. The implants are placed predictably and we are able to optimize a beautiful restorative outcome. This means because we know the position on the implants then we know how the teeth will connect and what they will look like. There are many implants placed and then they add the tooth which can lead to some very unaesthetic results and comprised function.
Case Study: 12 Fully Guided Implants replaced with Implant supported Bridges and Individual Crowns